See our horses at our traditional, purpose-built stables
The Stables & Horses
at Dingle Horseriding
Dingle Horseriding Treks & Holidays
Traditional, purpose-built stables
Our traditional, purpose-built stables are located in the hills overlooking  Dingle Harbour, a kilometer from Dingle Town.
Our horses range in breed, colour and size from 14.2 hands to 17 hands, we favour the Irish draught horse and Connemara Ponies for their surefootedness, and turn of speed.
Dingle Horse Riding is approved by A.I.R.E (the Association of Irish Riding Stables) and Fáilte Ireland (The National Tourist Board) and is a member of Equestrian Holidays Ireland.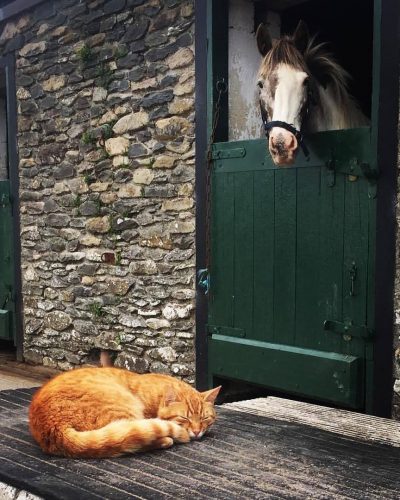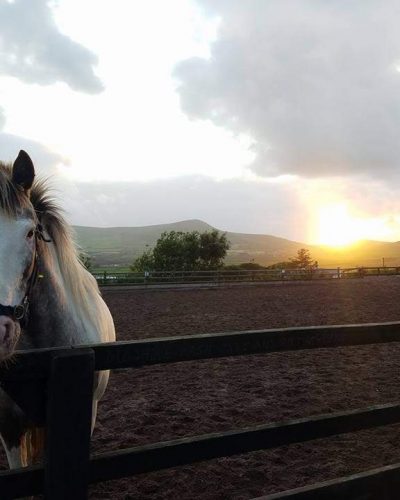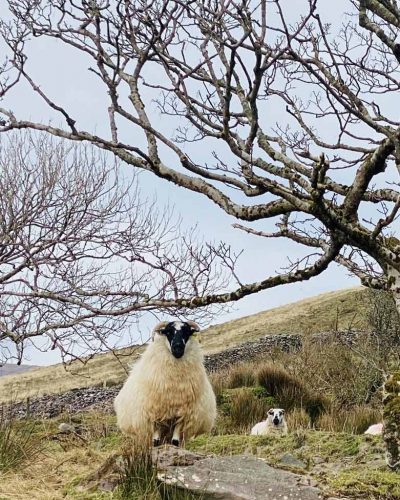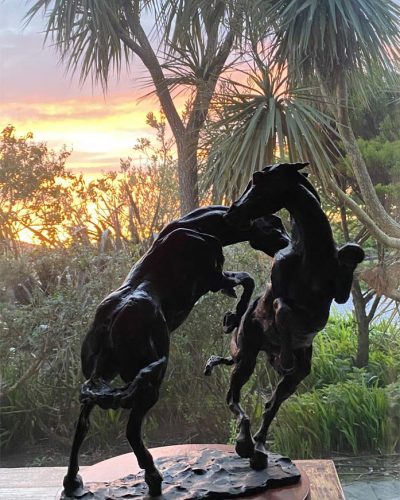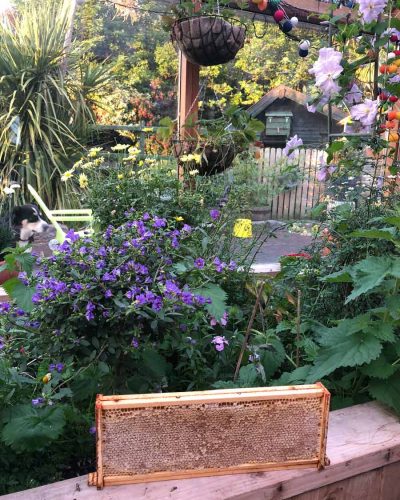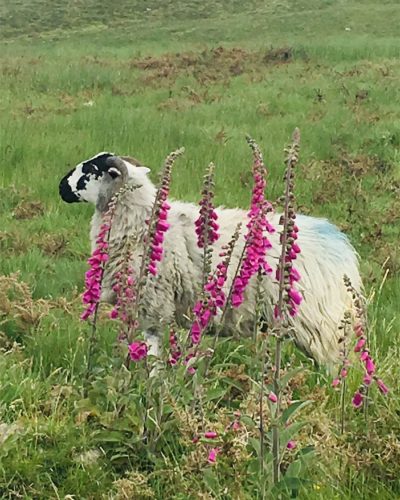 Ireland is a country of horsemen and is known the world over for producing the finest horses. The Irish draught is famous for its strength and intelligence. Their good bone and gentle nature make them one of the most popular riding horses in the world. They are known for their staying power and they can easily cover great distances over rough terrain.
All of our horses are hand picked for temperament and suitability.
Our guides are friendly, experienced, and knowledgeable and will be happy to help you find the right horse for your ride. The equipment provided is safe, well maintained and suited to the type of horse riding you will be doing with us.
Horse rides for Novice to Advanced riders
Our Horse Riding Treks & Trails
The Shamrock Trails
The very beautiful Shamrock trails take you into the hills behind Dingle with spectacular views of the Atlantic Ocean and its rugged off-shore Islands.
Type: Mountain Ride
Duration: 2.5 Hours
Suitable for: Novice, Intermediate and Advanced riders.
Dates: March - October
The Wild Atlantic Beaches & Great Blasket Island trails
These trails to the most scenic beaches on the West Kerry coast offer opportunities to gallop along stretching golden sands followed by wading in the clear cooling waters of the Atlantic Ocean, excellent therapy for horses and riders alike!
Type: Long Beaches
Duration: 6 Hours
Suitable for: Intermediate and Advanced riders.
Dates: March - October
Winter Treks 2021
Winter is a great time to come riding in Dingle. It is quiet, peaceful, and stunningly beautiful. We run Shamrock Trails and the Dingle Harbour and Beach Trail over winter
Type: Mountain & Beach
Duration:2.5 Hours
Suitable for: Novice, Intermediate and Advanced
Dates: Mid October - Mid March
Horse Riding Holidays 2021
Explore both the south western area of the Peninsula and the north coast via the Conor Pass, which is one of the highest Irish mountain passes. We overnight at each destination before returning to Dingle at the end of the week.
Type: Mountain & Beach
Duration: 3 or 7 day holiday
Suitable for: Intermediate, Strong Intermediate, Advanced riders.