Answers to common questions
Frequently Asked Questions
with Dingle Horseriding
Horse Riding Questions and answers
Frequently Asked Questions
How do I get to Dingle Horse Riding?
What style of riding will I be doing?
YOU WILL BE RIDING ENGLISH STYLE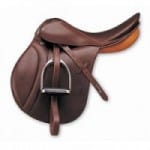 This is an English Saddle
* PLEASE NOTE: All of our horses are ridden with English Style Saddles. English riding involves a bit more balance and coordination of the reins and legs, so western riders may not feel immediately secure in the saddle. For our beach trails riders need to be confident in an English saddle, easy in transitions and comfortable with the rising trot and 2 point canter.
Click here for more information on judging your riding ability, age restrictions and weight restrictions
What level of riding ability is required to participate in a Trek?
How do I judge my riding ability?
Do I need to bring my own equipment?
We have our own tack which is suited to the type of riding you will be doing. We also provide riding helmets, boots and rainwear for your use if needed.
What should I pack for a riding holiday?
Pack for comfort & include: breeches/jodhpurs, riding or paddock boots, chaps or half chaps, riding helmet and riding gloves.

Other clothes should include: long and short-sleeved shirts, warm sweaters/light jacket, smart casual evening attire and comfortable shoes.

In Ireland it's good to include rain gear (jacket and pants), sunglasses, sunscreen and insect repellent. You may like to include personal medications, adhesive bandages for blisters, waist pouch for personal items, camera/film, small backpack (optional) and a seat saver (optional).
Are there age restrictions?
Are there weight restrictions?
Weight Limit: It is important that you are fit, agile & active to ensure your comfort and safety.

Male riders 
Weight limit for fit male riders under 170cm  : 14 stone / 196lbs / 89kg
Weight limit for fit male riders over 170cm  : 15.3 stone / 214lbs / 97kg
Weight limit for fit male riders over 185cm : 16.3 stone / 228lbs / 104kg

Female riders 
Weight limit for fit female riders under 165cm : 12 stone /168lbs  / 76kg 
Weight limit for fit female riders over 165cm : 13 stone / 182lbs / 83kg 
Weight limit for fit female riders over 176cm : 14 stone / 196lbs / 89kg
Do treks go out rain or shine?
Yes we ride in the rain,  we have rain gear available if you should require it.
What is your policy regarding cancellation of rides due to bad weather? Do you refund fees?
We ride in most weather as it is impossible to predict the weather in Ireland from one hour to the next; we do not ride in dangerous conditions, for example extreme winds and storms.

If Dingle Horse Riding does cancel a ride due to such unforeseen circumstances then we refund the cost of that ride.
What is the best time of year to visit, in terms of weather?
The weather tends to improve from April through to the end of September, although we get lots of rain here in Ireland even during these months, typically rain gear is essential.
Can I book a riding holiday and provide my own accommodation?
Yes, we offer Riding Only pricing, which includes transport between trails in addition. Please contact us for individual quotes.
How much advance notice is required to book our rides?