Dingle Horseriding Holiday
Trail Options
---

---
           
---
Our three day to full week trails take riders around the magnificent Dingle Peninsula, through breathtaking scenery in areas of outstanding natural beauty. We take bookings for our post to post trail rides on an individual basis and communicate via email with each rider to ensure our group (maximum of 5) all ride at a similar ability and riding fitness; this makes for a more enjoyable experience during your holiday. We occasionally get a request for a slightly larger group and we do accommodate within a family or friend situation. Here we send a second guide for the week to ensure each riders needs are attended to.
On our week long trail, we explore both the south western area of the Peninsula and the north coast via the Conor Pass, which is one of the highest Irish mountain passes. We overnight at each destination before returning to Dingle at the end of the week. The example below outlines all the routes on the 7 day rides. Riders look after their own food apart from breakfast; Dingle and the Peninsula is renowned for its superb restaurants and cafés.
We offer two separate 3 day mini trails – The Wild Atlantic Way & Great Blasket Island Trail and The Dingle Peninsula Mini Post to Post Trail. With our shorter holidays, we choose the trails that best suit the tides and weather on the day. These shorter trail rides are incorporated into our week long trails. Riders can join these trails on day 1, 2 & 3 or on day 4, 5 & 6 of dates below. For full trail descriptions please see below.
To follow are our 2019 Dingle Peninsula Post to Post Trail Dates for Intermediate & Strong Intermediate rider's in English style. These dates represent the best beach rides during the normal 9:00 to 18:00 hrs. However if you have specific dates in mind that would suit you better we are happy to accommodate you as long as you understand that we may have early starts or late starts depending on the tides; we always want to ensure our riders experience the big beaches. Please contact us to discuss your preferred dates and we will try our best to put a package together. Please note we would need a minimum of 3 riders to do so.

2019 Post to Post Trail Ride Dates

:
---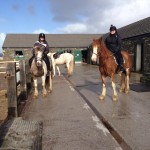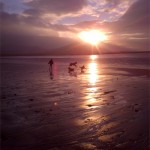 ---
MINI TRAIL includes:
We offer two separate 3 day mini trails – The Wild Atlantic Way & Great Blasket Trail and The Dingle Peninsula Mini Post to Post Trail, please see trail descriptions below. We incorporate these trails into our week long trails allowing you to extend your trail should you wish. *Extra days must also be booked in advance.
WEEK LONG TRAIL includes:
Arranged Your Own Accomodation

?
Join us on a daily basis for riding and transfers from and to the Stables each day for the trail ride in the morning and after the trail each evening:
Luggage
:
Please note that on the trail we can carry one bag per rider, weighing up to 10 kg with maximum dimensions of 55 x 40 x 20 cm, plus 1 small bag up to 35 x 20 x 20 cm during the trail, larger / heavier luggage can be stored at Dingle Horse Riding.
Getting Here
:
There is a direct 45 minute flight from Dublin airport to Kerry airport and 

www.dingleshuttlebus.com

 offer a shuttle service from Kerry airport to Dingle which takes an hour.
Booking
:
We take bookings for our post to post trail rides on an individual basis and communicate via email with each rider to ensure our group (max 5) all ride at a similar ability and riding fitness; this makes for a more enjoyable experience during your holiday. We occasionally get a request for a slightly larger group and we do accommodate within a family or friend situation. Here we send a second guide for the week to ensure each riders needs are attended to.
Information Required: 
We require details of each rider's height, weight and riding experience in English style, plus preferred horse type.  
Payment
:
To confirm your trail we require a 25% deposit which can be paid by bank transfer, the balance to be paid 6 weeks prior to your holiday.    
Horses

:
Riders can choose from our selection of Irish cobs who are wise, strong and calm. The Irish Cob breed was developed by the Travelling Community in Ireland. For hundreds of years these sturdy, hardworking horses pulled wagons and carts throughout Ireland, Britain and Europe. The breed adapted to be very strong and versatile. They needed to be gentle enough to be handled by children but sturdy enough to pull a wagon all day. Irish Cobs have an imposing appearance with a stout, powerful body. They are noted for their high knee action, excellent temperament and flowing hair. Their wide short backs make them very comfortable under saddle. The Irish Cob is ideal for leisure riders, being very good weight bearers, versatile and kind. We also have a selection of 
Connemara Ponies
 and 
Irish Draught Horses
. Our Connemara's are small, fun and feisty; The Connemara Pny (Irish: Capaillín Chonamara) is a pony breed originating in Ireland. They are known for their athleticism, versatility and good disposition. The breed makes excellent show ponies. The Irish Draught horses are beautiful, steady, willing and strong. The Irish Draught horse is the national horse breed of Ireland which developed primarily for farm use. Today, they are especially popular for crossing with thoroughbreds and warmbloods, producing the popular 
Irish Sport Horses
 (also called Irish Draught Sport Horses.) Irish Draught Sport horses are eager, forward going and excel at the highest levels of eventing and show jumping.
---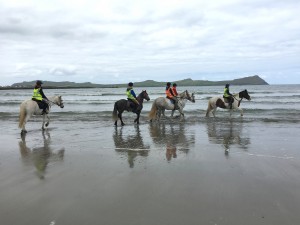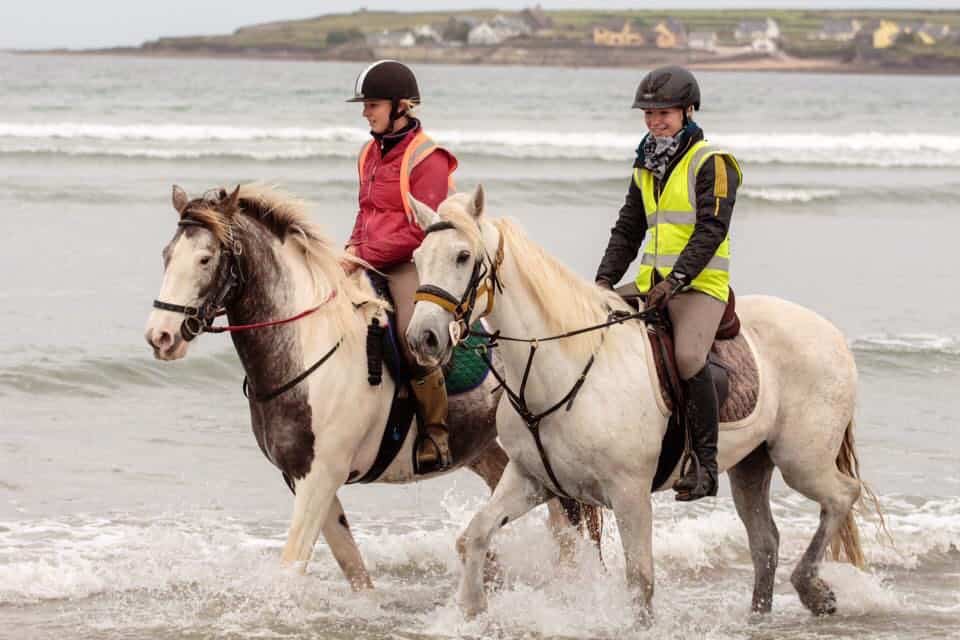 Mini Trail Options: 
THE WILD ATLANTIC WAY & GREAT BLASKET ISLAND TRAIL – On  this trail we loop the wild and rugged Gaeltacht area West Of Dingle halting at points of historical, geographical and archeological interest. The Dingle Peninsula / Corca Dhuibhne is a storehouse of Irish cultural heritage. There is no other landscape in western Europe with the density and variety of archaeological monuments as the Dingle Peninsula. Much of the peninsula of Corca Dhuibhne is a Gaeltacht or an area where the Irish language is spoken at home, in the workplace and at school. This trail includes 3 nights Bed & Breakfast and 3 days riding. Riders stay in the same B&B each night. We run this trail from April through to September 2019. Riders can join the trail on day 1, 2 & 3 or on day 4, 5 & 6; please see dates above.
THE DINGLE PENINSULA MINI POST TO POSR TRAIL – This trail includes 3 nights Bed & Breakfast and 3 days riding. We incorporate this trail into our week long trail. Riders can join this trail on day 1, 2 & 3 or on day 4, 5 & 6 of dates above. For further trail details see discription further below.
---
Example of Our Week-Long Trail:
EVENING 1: Arrive at your Dingle B&B
DAY 1: On arrival at Dingle Horse Riding you meet your fellow riders and trail the local Dingle area. This allows us to ensure that all our riders are happy with their allocated horses. After a gathering of canapés and refreshments we head via Kilfountain River to the most westerly mainland point in Europe, Smerwick Harbour (the sight of much of the filming for Ryan's Daughter). From here we can see also see Ceann Sibeal Sybil Head Tower. The Tower was built just before 1880 as a consequence of fear of an imminent Napoleonic invasion of England, using Ireland as a back door. Measuring 40 feet high and 30 feet square, one can still see that it was within communication distance of sister towers on the Great Blasket and Ballydavid Head (north side of Smerwick Harbour). The cliff here has a sheer drop of nearly 700 feet and is very dangerous. Riding down then towards the ancient  Gallarus Oratory (a 12th Century church) we have magnificent views of The Three Sisters and Ceann Sibeal. Here we take the opportunity to explore Gallarus Oratory and also view an audio visual display of the surrounding Peninsula which we shall trail over the next 6 days. Gallarus itself is the best preserved early Christian church in Ireland. It represents the apogee of dry-stone corbelling, using techniques first developed by Neolithic tomb makers. According to local legend, if a person climbs out of the oratory via the window, their soul will be cleansed. This is however physically impossible as the window are approximately 18cm in length and 12cm in width. Forging ahead we continue our trail on to Beal Bán beach to enjoy an exhilarating gallop before heading for Kilmackader through the beautiful countryside and green roads of the West Kerry Gaeltacht. We overnight in Ballydavid to enjoy some local food and traditional music.
---
DAY 2: After beginning the morning with a gallop on Muiríoch beach we head inland across the Brandon Mountain Range via a section of the Pilgrim's Route. As we climb Mount Brandon, the second highest peak in Ireland at 3,123 ft (measuring second only to Carrauntoohil at 3,406 ft also located in Co. Kerry) we have spectacular views of the Dingle Peninsula, looking as far as the Blasket Islands and Skellig Rocks, as well as the Iveragh Peninsula and the Atlantic Ocean beyond. The terrain is challenging; at the highest point we cross the pass at 1,300 ft, but the horses are surefooted and take it in their stride. We continue down the mountain enjoying the vast panoramic views of Brandon Bay and its massive beaches. We head further on towards the quiet village of Cloghane via magnificent valley lakes and narrow, winding boheens, all overlooked by the magnificent Conor Pass. With an elevation of 410 m above sea level the Conor Pass is Ireland's highest mountain pass. It was carved out of the cliff face during famine times. The views here are breathtaking, as the glaciated landscape of mountains and corrie lakes comes into view. Today there will be a fair amount of trotting, but the steep climb up and down means this ride also requires a slower pace as the terrain is taxing on both horse and rider. Tonight we overnight at the foot of Mount Brandon in Cloghane village with O' Connors B&B.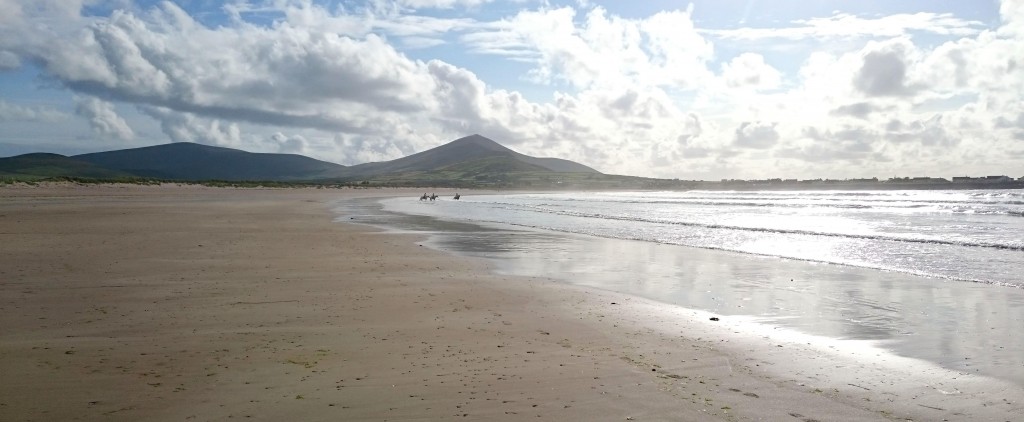 ---
DAY 3: Day three is the most beautiful beach riding day of all as the beaches between Cloghane, Castlegregory and the Maharees were made for horse riding! We spend the day cantering along many miles of unbroken, largely deserted, wide, sandy beaches, stopping for lunch at a local pub in Castlegregory. In the afternoon we take on the beaches for gallops and further explore the surrounding area before crossing back from the southern side of the Peninsula to overnight at Fitzgibbons Dive Center. Here we're ready to explore the Maherees (Irish: Na Machairí) in the morning, a 5 km long ayre. The Maherees lengthy beaches on either side of its peninsula separate Brandon Bay on the west from Tralee Bay on the east. On arrival at the dive center we untack the horses and swim them bareback in the small safe inlet. We have stunning views of the Maharees Islands, or 'Seven Hogs', from here. Oileán tSeannaig, the largest of the islands, contains remnants of an early Christian monastic settlement founded by St. Senan in the 7th century. Today we shall have covered many miles at a fast pace, and both horse and rider will deserve a well-earned rest.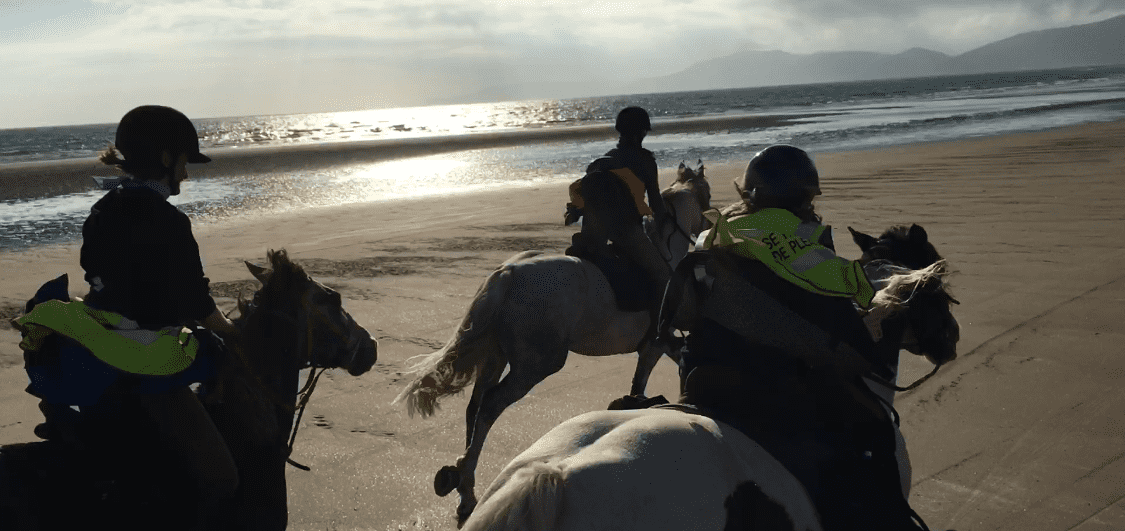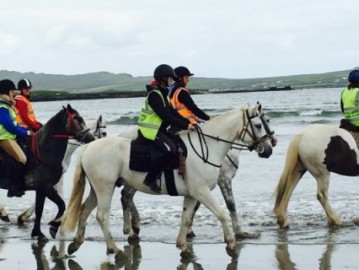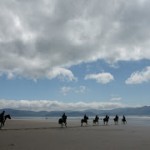 The Stunning Beaches and Coastline Trail on Day 3
---
DAY 4: We first head for the east beach of the Maharees and go on to explore each of the peninsula's sides. Much of Maherees is a sandy spit with sand dunes giving way to earth and rocky ground towards the northern end. These sand dunes create a unique ecosystem and are home to the rare 'Natterjack Toad', found locally in significant numbers. The area is also known for its countless lakes and Lough Gill is also a major breeding ground for the toad. Whooper swans and the Bewick's mute swans also breed here. The peninsula shelters Fenit Harbour, the main port of County Kerry, from the large Atlantic swells, while the Brandon Bay beaches are openly exposed to the North Atlantic and receive long rolling swells which provide excellent surf. Later this afternoon we will ride into Camp village via Kilgobbin where we will stay the night.
---
DAY 5: From Camp village we head further out on the Dingle peninsula some 11 km west of Tralee to Derrymore (Irish: Doire Mór, meaning 'great oak grove').  Derrymore lies between the Slieve Mish mountains and the Atlantic Ocean. Its sandy shore area is a nature reserve supporting many rare plant communities and is an important high-tide roosting area for shore birds. After stopping for lunch at a local Tavern we cross over the Finlglas River on towards Cathair Con Rí via an ancient bog route with spectacular views over the Atlantic Ocean. We pass through Gleann Na nGealt, also know as 'The Valley of the Mad'. Legend has it that its name is associated with 'Gall', a king of Ulster, who was cured of madness when he drank from the well and ate the watercress growing in its waters. Ancient history also tells of 'Bolcan' King of France who was also restored to full health when he drank from the well fleeing from the battle of Ventry harbour. Scientific studies of the well water have shown up high levels of metals including lithium which may in some way explain the supposed beneficial effects of the water. We will ride the surrounding lanes and bohareens which offer stunning views of Cathair Con Rí, Dingle Bay and the Ring of Kerry until we reach Inch Beach. Inch beach is a world renowned strand that attracts all types of sport enthusiasts. It is terrific for surfing, snorkeling, fishing, gliding, and of course horse-riding. However, the strand was first made famous for its part in the film Ryan's Daughter. On arrival we head for spectacular gallops along its long sandy beach, followed by a quick dip to cool the horses after a long day. Tonight we stay at Inch Guesthouse just above Sammy's Restaurant and the beach.
---
DAY 6: On our final day our special guide Eric leads us on an exhilarating ride through the dunes at Inch which feel like a roller coaster ride on horses. Fast trots and gallops through windy trails that make the heart race! This is where the fitness of our horses really shines; your mount carrying you effortlessly through these sandy hills and then happy to gallop endlessly on the beach. After a long lunch with lots of friendly banter Louise will lead us safely back towards our original destination. Being a local herself, Louise is gifted with her knowledge of the Dingle peninsula.  She guides us through the hills along the Dingle way, where we overlook the magnificent lake that lies under the Slieve Mish range and go on to explore Átha-na-Scáil, meaning in english the 'River of the Hero'. The legendary hero being 'Cú Chulainn', whose grave is reputed to be on the side of the mountain above Droumavalla, north of Annascaul (birthplace of Tom Crean, the famed Antarctic explorer).  As we complete our ride, we will have covered many miles, had some fantastic riding and enjoyed the most spectacular views Ireland has to offer. Tonight the horses are boxed home from Minard Castle.  We all meet back at Dingle Horse Riding for conversation, libation and theorisation! We stay in Dingle tonight where we will again be able to sample the culinary delights of the many cafes and restaurants.