Tel: +353 66 9152155              Text: +353 86 8211 225                  Email: info@dinglehorseriding.com
---
  
---
How do I get to Dingle Horse Riding?
Click on the link for instructions: Directions to Dingle Horse Riding
What style of riding will I be doing?
You will be riding English style.
What level of riding ability is required to participate in a Trek?
Our Cnoc an Cairn and Shamrock Trail rides are intended for Beginner and Novice riders, but riders with more experience are more than welcome. The guide will cater the trek to the riders as much as possible.
Our Cnoc an Cairn & Beach, The Gaeltacht  Trail, Wild Atlantic Trail and The Great Blasket Island Wild Atlantic Trail rides are suitable for Intermediate and Advanced riders only.
How do I judge my riding ability?
Here are some guidelines to help you judge your riding ability:
Beginner: A rider with little or no experience.
Novice: A rider who is comfortable and in control at the walk and/or trot, but has limited experience trotting and/or cantering.
Intermediate: A rider who is confident and in control in all paces (including posting trots, two point canters and gallops), but does not ride regularly.
Strong Intermediate: An intermediate rider who is currently riding regularly and is comfortable in the saddle for at least 6 hours per day.
Advanced: All of the above, plus the ability to handle a spirited horse in open country.
Do I need to bring my own equipment?
No. We have our own tack, which is suited to the type of riding you will be doing, for you to ride in. You may bring your own riding helmet and boots, but if you do not own your own gear or if you do not want to travel with it, we provide riding helmets and boots and rainwear for your use.
What should I pack for a riding holiday?
First of all, you should pack for comfort. You will be happier in clothes that you are comfortable wearing. For example, do not buy new boots or riding helmet for your trek as they will probably be uncomfortable until they are broken in.
Clothes you bring to ride in should include: breeches/jodhpurs, riding or paddock boots, chaps or half chaps (for paddock boots), riding helmet (required), and riding gloves.
Other clothes you bring should include: long and short-sleeved shirts, warm sweaters/light jacket, smart casual evening attire, and comfortable shoes.
Other things you might want to bring are: rain gear (jacket and pants), sunglasses, sunscreen, insect repellent, personal medications, adhesive bandages for blisters, waist pouch for personal items, camera/film, small backpack (optional) and a seat saver (optional).
Are there age restrictions?
We don't accommodate children under the age of 11 unless they are strong intermediate riders. Children between the ages of 11 and 13 must be accompanied on the guided ride by an adult.
Are there weight restrictions?
If you are fit and not overweight, you will be safer, ride better, and you and your horse will enjoy yourselves more.
Weight limit for competent, fit male riders – 16stone/224lbs/102kgs.
Weight limit for competent, fit female riders- 15stone/210lbs/95kgs.
Weight limit for novice, beginner riders – 14 stone / 200lbs/89kgs.
While good riding is much the same on any saddle, not all Western riders are comfortable in an English saddle right away. Western riders are generally not used to posting, and six hours of sitting trot usually turns out to be too much for even the most dedicated rider to handle. It does not take long to get the knack of, and a few lessons in an English saddle before you begin your Trek should solve any problems.
Do treks go out rain or shine?
Yes. We ride in almost all weather conditions. We have rain gear available if you should require it.
What is your policy regarding cancellation of rides due to bad weather? Do you refund fees?
We ride in all weather, as it is impossible to predict the weather in Ireland; we do not ride in dangerous conditions, for example extreme winds and storms.
If Dingle Horse Riding cancels a ride due to such unforeseen circumstances, then we do refund the cost of that ride.
What is the best time of year to visit, in terms of weather?
The weather tends to improve from April on through to the end of September, although we get lots of rain here in Ireland even during these months. Typically, rain gear is essential.
Can I book a riding holiday and provide my own accommodation?
Yes, we offer Riding Only pricing, which includes transport between trails in addition. Please contact us for individual quotes.
How much advance notice is required to book our rides?
Many of our rides are tide dependent, as we take in the beach as part of these trails. Therefore, they need to be booked at least one week in advance.
Tel: +353 66 9152155              Text: +353 86 8211 225                  Email: info@dinglehorseriding.com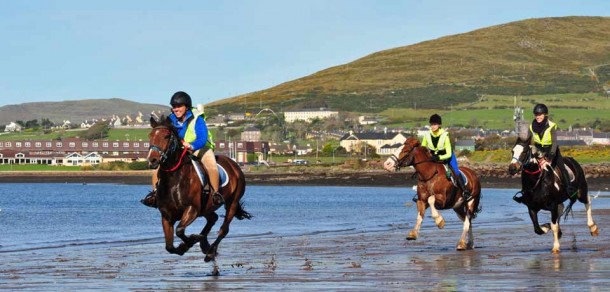 Subscribe To Our Newsletter
Join our mailing list to receive the latest news and special offers about our rides and treks