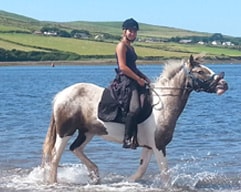 Thank you for your booking enquiry, we will be in-touch with you shortly, in the meantime here's some information to help you decide which trail you'd prefer:
We accommodate beginners in search of fun, spectacular scenery and a memorable introduction to riding right through to advanced riders looking for exciting and challenging rides in the open country. Riders are assessed in the school prior to these trails and given basic tuition and aids to ensure their safety and comfort.
Shamrock Trail: €100 per person.
The Gaeltacht River & Beach Trail: €210 per person. These treks are suitable for Intermediate and Advanced riders english style.
The Wild Atlantic & Great Blasket Island Trail: €300 per person. These treks and suitable for Intermediate and Advanced riders english style.
Our Shamrock Trail rides take you into the hills behind Dingle with views of the Atlantic Ocean and its rugged off-shore Islands. Here we overlook the most westerly point in Europe. These trails are very beautiful and easygoing. Experienced riders are taken on the canter tracks while beginners take the scenic route at a more leisurely pace  These trails are relaxed rather than challenging.
Both our Gaeltacht River & Beach Trail and our Wild Atlantic & Great Blasket Island Trail are suitable for Intermediate and Advanced riders in ENGLISH STYLE. These rides are tide dependent so departure time changes daily to catch low tide.
Riding Ability & Age Restriction:
Beginner:
A rider with little or no experience.
Novice:
A rider who is comfortable and in control at the walk and/or trot but has limited experience trotting and/or cantering.
Intermediate
: A rider who is confident and in control in all paces (including posting trots, two point canters and gallops), but does not ride regularly.
Strong Intermediate:
An intermediate rider who is currently riding regularly and is comfortable in the saddle for at least 5 hours per day.
Advanced:
All of the above, plus the ability to handle a spirited horse on beach and open country.  
AGE:
We
don't
accommodate Children
under the age of 9 unless they are strong intermediate riders. 
Children between the
ages of 9 and 13 that are beginner riders
 must be accompanied on the guided trails by an adult that they feel confident with.
Weight Restrictions:
If you are fit and not overweight, you will be safer, ride better and you and your horse will enjoy yourselves more.
Weight limit for competent, fit male riders: 15.3 stone / 214lbs / 97 kgs.
Weight limit for competent, fit female riders: 14.3 stone/200lbs / 91kgs.
Weight limit for novice, beginner riders: 13.3 stone / 190lbs / 85kg.
While good riding is much the same in any saddle, not all Western riders are comfortable in an English saddle; here at Dingle horse riding we use direct rein and post the trot, lessons in an English saddle before you begin your trek will help iron out these differences.
We supply Helmets, boots and rain gear if required.
Directions: From Main Street continue up Goat Street to the top of the hill, at the apex of the hill directly after Ash Mount Terrace turn right and follow this road for a Kilometer where you will see us up on the right through the red gates. Drive time: 5 minutes. Walk time: 20-25 minutes. GOOGLE MAPS – Dingle horse riding .

Tel: +353 66 91 52199, Text: +353 86 8211 225
DINGLE HORSE RIDING LTD VAT REGISTRATION NUMBER : 8264292L
*
For nearby accommodations please see the accommodation section on our website.
Yours sincerely,
Susan Callery