Other Activities
Irish Art at the Greenlane Gallery Based in the centre of Dingle Town the Greenlane Gallery showcases some of the most vibrant and distinctive creative talent from Ireland and abroad with work ranging from Fine Art to Applied Art and Jewelry.
Great Blasket Islands Accommodation and Boat Trips Boat tours of the Great Blasket Island and Great Blasket Island self-catering accommodation.
www.irishadventures.net For the best adventures in Kerry, Irish Adventures runs kayaking trips, rock climbing, hillwalking for all levels, mountain skills courses, cycling and mountain biking tours.
http://www.myirelandtour.com Crafting idyllic Irish experiences since 1989.  This company takes great pride in creating the finest tours of Ireland, using local knowledge and huge collective experience.
Discover Ireland Tours Create your own tour of Ireland
Equestrian
http://www.uiscesaddlery.com A wide range of saddlery items, all personally hand-stitched using the best quality British leather and fittings. Also offers repair work to all bridles, saddles, and other leather items.
www.aire.ie AIRE (Pronounced 'ARA') is the Association of Irish Riding Establishments, the body that regulates standards at riding schools and equestrian centres in Ireland.
www.balanceinmotion.co.uk Merrigan Burton is a freelance centered riding and dressage instructor.
Transport
www.gocoach.ie Coach between Killarney and Dingle 3 times a day
More Accommodation
Hostel
Bed & Breakfast
Hotel
Luxury
Self-Catering
www.southboundholidaycottages.com
Dingle Holiday Cottages have a stylish selection of luxury self-catering holiday accommodation on the Dingle Peninsula .
Hotels in Killarney
Killarney Hotel Kerry – Holiday Inn Killarney http://www.holidayinnkillarney.com/
5 Star Hotels Kerry – Hotel Dunloe http://www.thedunloe.com/
Killarney Hotels – The 5 Star Europe Hotel http://www.theeurope.com/
5 Star Hotels Ireland – Aghadoe Heights Hotel & Spa http://www.aghadoeheights.com/
Hotels Kerry – Parknasilla Hotel Sneem http://www.parknasillahotel.ie/
Hotels in Killarney – Killarney Park Hotel http://www.killarneyparkhotel.ie/
5 Star Hotels Ireland – Sheen Falls Hotel http://www.sheenfallslodge.ie/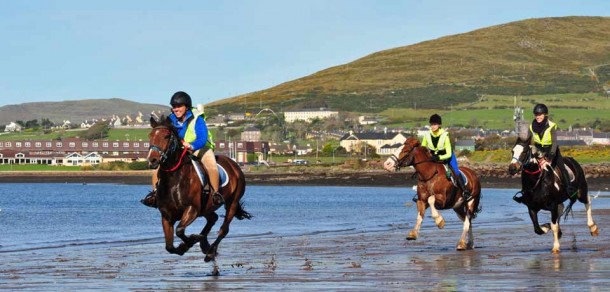 Subscribe To Our Newsletter
Join our mailing list to receive the latest news and special offers about our rides and treks